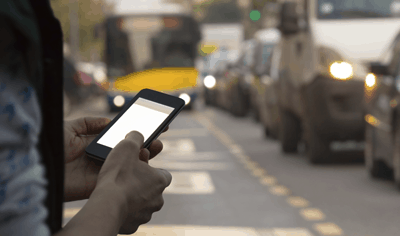 Looking to find a cheap Lyft or Uber insurance quote?  Definitely an important yet puzzling question for any current or potential driver for Uber, Lyft, or any other Transportation Network Company (TNC).  While not quite as puzzling as "what is that stain in my back seat?", it can be a puzzling question nonetheless.
Problem is, there are so few companies out there doing Uber insurance right now is what really complicates the problem.  Further, the few options there are can differ from what they cover, where you find them and how well they serve your use.
Full disclosure:  You may already know that I am an independent insurance agent.  However, I am going to make every effort to be as objective as possible despite the fact that I am a firm believer in myself and the value that an independent agent can provide.  I mean, if I didn't believe an independent agent was the best way to buy insurance, I have no business being in business. That being said, not all of your options utilize independent agents but I hope to give them equal consideration here.  That being said, on we go…
I assume you are familiar with the concept of "Periods 1, 2 and 3" in the TNC process and have an idea how TNCs like Uber and Lyft work.  If not, refer to my previous article.
What happens if I don't tell my insurance company I am driving for Lyft or Uber and I have an accident?
Unfortunately, this is currently the most common of all 'options'.  This "Ostrich Approach" as I call it can have many unfortunate results when the accident happens ranging from your claim being denied and policy canceled all the way to being charged with insurance fraud (a felony) if you lie about the use of your vehicle to the claims investigator.
What's the cheapest Lyft and Uber insurance option for me?
None!  That's right I said "none" and even added an exclamation point at the end!  Of course that's the cheapest because it costs nothing.  Theoretically if you never drove the car except while driving or a TNC, you could let the company's insurance take care of the liability needed.  BUT, aside from being a requirement for both Uber and Lyft, California law requires it to register your car, and Officer Meanie won't want to hear you explain why you can't provide proof of insurance when you get pulled over.  So this really isn't a practical option.
Getting real:  What can you actually do about Lyft and Uber insurance?
When it comes right down to it, all you need to carry is the state mandated minimum Liability of $15,000 per person/$30,000 per accident and $5,000 for property damage.  That gets your car registered and makes the TNCs happy.  However, for most people this just doesn't make sense.  You are going to want other coverages such as Uninsured Motorist, Towing and others that are inexpensive yet quite valuable.  But if you absolutely, positively cannot afford an extra $5 per month for the extra coverages, state minimum will work.
What options are out there for Lyft and Uber insurance in California?
I mentioned in my prior article that currently there are eight companies approved for TNC insurance in California, however, not all are yet offering the coverage.  So what is available now and what do they cover?
Mercury Insurance:  Mercury has an endorsement to extend their policy to cover Period 1.  It then lets the TNC's coverage to take over for Periods 2 and 3.  The cost is only a rather modest increase, essentially the equivalent of rating the vehicle as commercial rather than personal use.  While that seems like it could be huge, it really isn't as bad as switching it to a full-blown livery-use (taxicab) policy.  Click here for a Mercury Insurance quote.
Farmers:  Like Mercury, their policy can be endorsed to extend coverage to Period 1.  Adding that policy only results in an increase of 8% over their normal rates.  Unfortunately, while interviewing a Farmers' agent I learned they are only interested in writing part-time drivers.  Full time drivers are ineligible for the program.  Their guidelines did not say what constitutes part-time vs. full-time, though.  Click here for a Farmers quote.
Metromile (Uber only):  This is the most radical of the Lyft and Uber insurance policies, owing primarily to the technology utilized.  By now you may have heard of 'Pay as You Drive' insurance.  The most publicized version of it being Progressive's "Snapshot" program.  These types of programs involve plugging a monitoring device into your car's onboard diagnostic port.  This enables insurance companies to monitor your driving habits such as where you drive, when you drive and even how fast you drive and how hard you brake.  Metromile charges you a flat rate every month but on top of that, they charge you based on your actual miles driven.  So if you drive well-below average, this may work out well for you.  The (potentially) good news is that Metromile says they do not charge for miles during Periods 2 and 3.  However, a little internet research has revealed some question as to whether or not they do so effectively.  Additionally, as the miles approached or surpassed what is average annual mileage (12,000-15,000 miles per year), their rates became some of the highest that I surveyed.  Metromile does not use agents but rather call center employees who tend to have far less experience and expertise.  Click here for a Metromile quote.
MetLife (Lyft only):  This was the most intriguing to me because they really go all out and cover all three periods of the Lyft journey.  Unfortunately, they wouldn't provide an online quote for TNC use and their phone representative would not cooperate and give me quotes citing that I needed to actually be a Lyft driver in order for them to be able to quote the policy.  I can say, however that their regular rates appear to be higher than average when compared with other California companies.   At last check, over the phone was the only way to get the quote by calling 888-675-6610.  However, keep in mind that their product would only be appropriate for you if you drive exclusively for Lyft and you can only get a quote if you are already contracted with them.
USAA (must be a member to get quote):  Unfortunately, USAA is another one that would not provide me with research quotes for this article.  They require that their insureds (or their family) have standing with the military to quote.  Like Metromile, they rely on call center employees rather than the added value of experienced, local agents.  If you or a family member are military, you can go to their web site at www.usaa.com but they will require that you join USAA, prior to getting a quote.
The conclusion:  Mercury or Farmers are the only way to go if you, like many drivers, want to keep the option of driving for both Uber and Lyft (or any of the smaller TNCs) and still having your policy cover you.  MetLife and Metromile are in exclusive arrangements with the Lyft and Uber, respectively, and will only cover you for the service they have an agreement with.  However, if you drive exclusively for Uber or Lyft, it may well be worth trying the company they have partnered with.
Finally, keep an eye out because more companies have TNC insurance in the pipeline and it is just a matter of time before more companies begin to offer it.
Oh, from what I hear…  Try amyl acetate on that mystery stain on your back seat.
3/16/16  Update:  The California Department of Insurance has announced that TNC endorsements have been approved for both State Farm and Allstate.  While neither carriers are known for having low rates, they may be worth checking out once they have implemented the products.  My most recent check though, agents for both companies indicated that hadn't even been made aware of the approval let alone been advised of when they could quote and write the product.